Sturgis Rally Updates 2021
by an Enemy of the People
It's Happening...Covid Explodes
Dreaded coronovirus infections now surging at Sturgis
Warnings and predictions coming true. Virus infections exploded in Meade County, home of the Sturgis Rally two weeks ago.
Huge 1550% increase in covid infections in Meade County, home of Sturgis.
South Dakota Disaster Headlines
Here are the headlines NOT being promoted by the "freedom-loving" governor and South Dakota Tourism
South Dakota Leads U.S. in Largest COVID Case Increase, With 312 Percent Rise in 14 Days...Newsweek
South Dakota cases quintuple after Sturgis Motorcycle Rally...NBC News
Sturgis Rally is what a vacccine-era coronovirus superspreader event looks like...DailyBeast
Warnings About the Sturgis Rally Have Come Tragically True...Yahoo Voices!
Meade County experiencing 36% weekly test-positivity rate eight days after the Sturgis Rally ended...KELOLAND News
Covid 19 in South Dakota: 455 total new cases; Death toll rises to 2059; Active cases 3416...KELOLAND News
ICU beds full at two Western South Dakota hospitals...KELOLAND
The South Dakota county where the Sturgis Motorcycle Rally was held has seen a 1,550% increase in Covid cases over the past two weeks, officials say...NBC News
Warnings About the Sturgis Rally Have Come Tragically True: "In S Dakota's Meade County, more than 1 in 3 COVID-19 tests are currently returning positive, & over the last three weeks, 7-day average case counts have increased by 3,400 percent."...Carla Marinucci
Dr. Maimuna Majumder "Over the last 21 days, #COVID19 cases have increased by 3400% in Meade County, home to the Sturgis Motorcycle Rally."
South Dakota Covid cases quintuple after Sturgis motorcycle rally...NBC News
Our narratives often roar past the facts, but the Sturgis facts, again, are bad...Spokesman-Review
South Dakota COVID cases explode after Sturgis motorcycle rally...Salon
Covid cases spike in SD after Sturgis bike rally...MSNnow
Rise in COVID cases "alarming", says Monument Health physician...KNBN
Coronavirus: South Dakota COVID-19 cases surge in wake of Sturgis Motorcycle Rally...KIRO Seattle
Sturgis was a major 'superspeader' event — just as warnings predicted...AlterNet
South Dakota colleges will reinstate COVID-19 dashboards showing cases among students, staff...Argus Leader
South Dakota sees 352% Covid surge in wake of biker event dubbed a 'super spreader' last year...Independent
Covid Cases Spike After Sturgis Motorcycle Rally—Again...Forbes
Cases in South Dakota rise nearly sixfold after annual Sturgis motorcycle rally...AOL
---
Covid 7-day percentpositivity rate
---
---
2021 Second Biggest in Decade
Sturgis crowd size was a bit overhyped, as we predicted...
2021 was big, but not the biggest. Just below the hugely gigantic 75th Sturgis Rally.
And quite a bit less than the 700,000-plus the over-zealous were talking about at the beginning of the rally this year.
Final tally from the road counts (those little black hoses across the road) was somewhere above 500,000

Still, Sturgis easily remains

The Big One

in the biker world...
---
The Sights
People watching at the Big One...
2021 photos at BikerDeep
---
Beer on the Street...Very Popular
And...International visitors dropped dramatically...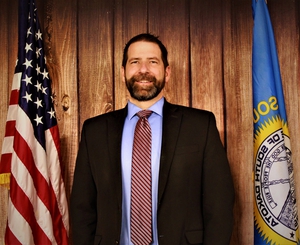 Sturgis City Manager Daniel Ainslie
81st Sturgis Rally up. Only the 75th drew more visitors in the last decade. Campgrounds packed along I-90 and elsewhere.
An American crowd with international visitors dropping from the usual 10-15 percent of the massive herd, down to only 1-2 percent. Cause - the pandemic, of course.
Various estimates with 700,000 being the usual number used. Take that sceptically. There is a lot of hype and promotion at this and every other big event like this.

"People enjoyed the open container," says Sturgis City manager Daniel Ainslie, "...that was received very well." People allowed plastic cups of beer or wine on Sturgis Main St this year.

And anyway, on Main Street, you really didn't see that many cups of beer outside the bars.

Local volunteer fire department was paid full-time for two weeks during the rally. "It is a significant cost," says Ainslie. "There were quite a few fires cropping up around Sturgis, and crews were able to put those out."

But, some people got edgy about smoke and fire. Ainslie..."We had to calm people down as they saw smoke in the Sturgis area."

More than $500,000 was raised for local charities.

Planning for the 82nd Sturgis Rally in 2022 has already begun.
---
Barren Streets
What it looks like when a city goes from 706,000 popiulation down to 7,000
Sturgis the week after the rally...
And Deadwood, below:
With live web cams at SturgusCams
---
Numbers Up
But then, last year was light
Numbers on about everything were up in 2021.
Except traffic accident deaths. They were down.
---
Stern Dude
It's the attitude, man...
2021 photos at BikerDeep
---
81st Rally Final Deaths/Injuries
Lower than in Previous Years
A 66-year-old man died after his motorcycle struck a sidewalk curb on Lazelle Street in Sturgis and he lost control. This is the last death/injury associated with the rally.
Final tally:
Four motorcycle accident deaths. That is relatively low compared to past years.

60 Injuries

"He was not wearing a helmet." A common denominator in most of the accident reports.

Sturgis Police stats: 26 calls for fights, disturbances and assaults; three thefts or burglaries, 20 reports of an unwanted or intoxicated person; and 16 domestic disturbances.

Sturgis Police issued 91 non-traffic citations, 135 traffic citations and 73 parking citations and transported 83 people to jail - 1,450 verbal warnings.

---
---
Twisted
Tea, and perhaps otherwise...
New photos daily at: BikerDeep.com
---
And then this breaking story below:
This will not end well...
Even his girlfriend is afraid of him
Minnesota man attends Sturgis Rally and has criminal charges pending in a string of three South Dakota Counties.
Charged in Lyman County with driving under the influence, driving with a cancelled license and no motorcycle endorsement; in Brule County with simple assault against a law enforcement officer, obstructing an officer and threats against law enforcement officer or family and in Meade County with domestic assault.
There's more...kicking police, fighting police, threatening to slit the throat of and kill the police sergeant, and then there's the scared girlfriend...
The whole story in the Mitchel Republic,
---
Outward Migration Begins
It's Friday and the Great Exodus of the bikes starts at a trickle
More photos daily at Bikerdeep.com
---
Terrible Air Quality Reprieve
Black Hills area getting short temporary relief...it won't last...
The air quality index reading Friday at Black Hawk between Rapid City and Sturgis.
Worst Air quality probably ever in the Black Hills this summer.
Mostly due to smoke coming in from forest fires in the West. California, Washington, Oregon, Montana, Wyoming.

Real Cause...Global Warming and the beginning of the Great Burn-off as the forests of the Rocky Mountains and Pacific Northwest go up in flames.

Air quality in the Black Hills area this summer has ranged from Good to Moderate to Unhealthy to Hazardous.
Black Elk Peak
Below, a photo of Black Elk Peak in the Black Elk Wilderness during cleaner air times. Taken in May...the white is snow.
---
Fire Near Sturgis Contained
Excellent weather conditions made for quick work
A forest fire that could been much larger has quickly been contained by slurry bombers, ground crews and bulldozer south of Sturgis.
The Kirk Fire burned 80 acres.

Ground crews still at scene mopping up.

Smoke to linger for several days, possibly blowing into Sturgis and surrounding areas.
---
$15,000 Expenses When She Leaves for Sturgis
Sturgis vendor reveals rally startup cost
Hustling at Sturgis where
Some workers making $3/hour plus tips. Coming out to $80 to $200 a day and/or night.

Some sleep in their booths.

But... "I wouldn't trade the experience here for anything in the world"

And...looking for a windfall fortune, of course...

One vendor makes $3000 to $5000 at the rally.
---
Forest Fire Breaks Out Near Sturgis
Fire now appears to be laying low due to weather conditions
About 80 acres burned so far in the Kirk Fire. Higher humidity and lower temperatures have greatly helped containing the blaze. Helicopters, dozers, fire engines and hand crews worked through last night. The fire was first reported Wednesday afternoon.
Heavy air tanker has dropped several loads of fire retardent.

Tatanka Hotshots now on the scene.

Smoke expected to persist for several days.

Good...another blaze, the Iron Fire in the Black Elk Wilderness near Mount Rushmore National Memorial has been contained at less than two-acres.
---
Notes from Hulett
The Hulett WY mid-rally conclave was once again...delightful...
Good ride into the red rock country of this part of Wyoming. Hulett is one of the most Western towns in Wyoming, which is saying something when you are talking about Wyoming.
Good crowd once again. But not as many as I expected considering the big numbers at Sturgis. Pig meat lunch free or with donation, laid back atmosphere, very scenic ride. Due for a bigger bounce-back after the "difficulties" of world health have passed.
This could have ended badly
This guy had the horse patrol at the Hulett Ham 'n Jam this year. Riding amongst the crowds and bikes. The horse is really well broke and of the best temperament. I was standing under one of those plastic shade awnings about 10-feet by 10-feet with metal poles and frame. With a deputy. A gust of wind like one gets in Wyoming came up and picked the entire awning up and flung it through the air hurling it right at the front feet of this horse. Horse made a little backstep, but noting else. And there aren't many that would have done ONLY that. Surrounded by lots of humans who are no match for 1000 pounds of scared horseflesh.
Wyoming Law Person and Trusty Horse
Free Ice Water
Kind of the opporsite of some sectons of Sturgis, where I think a few would sell the air you breath if they could get away with it
Christian Motorcyclists Association free ice water at Hulett
Shout-out for a Good Deed well done
Pretty nice because you can get dehydrated in low humidity Wyoming summer.
---
Covid Cases Nearly Double in South Dakota
It took only one week
Only about 60 percent of eligible adults vaccinated in state. No stats or figures yet available for Meade County and Sturgis. As a side-note, one of the
National statistics from the Center for Disease Control and Prevention
---
Hulett Ham 'n Jam Coming Wednesday
One of the more laid-back days at Sturgis, in Hulett, WY
And a photo slide shows of past "Hulett's"
One of the famous events at the Sturgis Rally aka Wyoming.
Pig Meat Lunch is usually available at no cost, if you are willing to stand in line.. Unsure whether the free lunch will be available this year.
A long parade of bikes will make their way from Sturgis, SD to Hulett, WY

The Hulett Ham 'n Jam sometimes tends toward the more risque, compared to Sturgis Main St

Red soil Western landscape not far out of Belle Fourche.

Not far from Devils Tower of "Close Encouters of the Third Kind" fame.

More from the horse's mouth at Hulett, and sheiff's deputies are sometimes roaming here on Horses. This afterall, is Wyoming.
Near Devils Tower
Impressive beyond what photos depict. This was the nation's first national monument.
---
Sturgis Main
from daily Sturgis photos at BikerDeep.com
---
207 Open Container Violations, so far
---
"Sturgis Death Cult?"
So says DailyBeast.com
DailyBeast headline...Gov. Kristi Noem accused of sending the ""

Sturgis Death Cult into Overdrive

"

The South Dakota governor has placed her position on the far right of the political spectrum as she unofficially runs for the Republican nomination for President of the United States.

Declines to push covid vaccinations. Defender of no-masks. Very popular on Fox.

Views likely very popular at Sturgis. Last year's rally was a superspreader event. This year...likely will be more so.

State covid info at

South Dakota covid updates

and at the

Mayo Clinic
"Fauci Fatigue" and the right-wing (a)version
Fauci Fatigue

says PJmedia, a right-wing web site.

Fauci an object of derision at Sturgis, even on t-shirts where he is mocked.
Here is the "Meet the Press" interview last Sunday
CBS covers Sturgis
---
Fire Breaks Out in Black Elk Wilderness
US Forest Service photo
Fresh blaze erupts near Black Elk Peak, one of the most sacred places of the Lakota, Cheyenne and other Indian tribes in the Black Hills.

Many wilderness trails closed until further notice.

Helicopters dropping water. Fire crews now on the ground.
Helicopters are dipping big buckets of water out of Sylvan Lake in the Black Hills to drop on the Iron Wildfire in the Black Elk Wilderness in the Black Hills. Forty firefighters are on the ground there. The fire crew started on Monday.
No information yet on fire size, but the US Forest Service reported that it is 25 percent contained. It's minuscule compared to the record-setting fires in the Pacific Northwest.
Black Elk Wilderness is about 1 mile elevation near Mount Rushmore National Memorial.
Iron Mountain Fire - U.S. Forest Service report
Black Hills National Forest
---
The Horde
---
Fewer Arrests and Criminals, or What is going on?
Update
Big increase in open container violations - 207 tickets issued for that. It's legal to take beer and wine onto the street this year. But it must be in an "official" Sturgis Rally plastic cup. I suppose that decreases litter. It also kind of requires people to buy alcohol from the bars on the street.
(Previously reported)
Fewer arrests for DUI compared to last year - 20 compared to 26 at this time last year.

Drug arrests down from 41 last year to 16 in 2021

Felony drug arrests down from 17 to only four this year.
And all this despite the fact that there are way more people at the Sturgis Rally 2021. Way more. Maybe the an all-time record.
Meet Sheriff Merwin, preferably under amiable circumstances:
There are some "inmate locators" online but they are out-of-date. For up-to-date info on friends, relatives or enemies who are incarcerated in Meade County, you'll need to contact the

Sheriff's Office

directly.
---
What they are saying at the beginning of the rally, 2021.
All-time Record
The reports of this being the biggest rally ever may be true. There are campgrounds strung out along I-90 just below Sturgis and they appear to be bigger and fuller than I have ever seen them in previous years. It's difficult to get a judge on rally attendance on Sturgis Main Street because that place is always full, at least from afternoon into nightfall.
More first-timers
The Buffalo Chip is reporting a very large influx of first-time attendees at that campground. Which goes against what has happened in previous years at Sturgis. When the rally was seen as in decline, with a higher and higher percentage of older bikers and fewer and fewer young ones. Not so much the case this year. It appears to be a good cross-section of age-groups.
Covid Be Damned
There is absolutely no precaution against covid-19 on Main Street, Sturgis, or any other location out photogs have been. Of the thousands they observed, only three people total wore facemasks. And one of those was an old lady, with dark glasses, hanging on to her daugher's arm, with a white blind person's cane in the other hand.
---
But only if you use the official Sturgis Rally plastic cups...
---
Not just no, but HELL NO !
CNN interviews on Sturgis Main Street
---
Fauci Concerned about Sturgis
Interviewed Sunday morning on "Meet the Press"
Further reporting on this at Forbes
---
ABC reports on Sturgis
Note the guy with the deer antlers on his bike...
---
Likely making this one of the most dangerous places in America
Meade county where Sturgis and the world's biggest motorcycle rally is underway has only a 37 percent vaccination rate. Making it one of the most likely locations in North America for an explosion of covid infections.
Newsweek reports
---
From South Dakota Public Radio
Sturgis Rally Dangerous for Unvaccinated
According to Dr. Shankar Kurra, vice president of medical affairs at Monument Health in Rapid City.
---
It does not take a genius to know the answer to this question
by KEVN Black Hills Fox
---
With an unusually larger than usual number of younger bikers, according to Buffalo Chip registrations
by the Black Hills Pioneer Press
---
Bigger than anything even the longtime vendors have seen
From Stars & Stripes, first in RCJ
---
Clydesdales arrive, so it must be big...
from Billings Gazette
---
Sturgis Mayor says "take your own precautions"
South Dakota Public Radio audio
---
My prediction...this will prove as popular as day-old stale beer...
from KELO
---
MSNBC Unenthiastic Look at Sturgis Rally and Gov. Kristi Noem
Lots of scienctific details in this report, and look at what happened last year...
---
To lessen chances of the contagion...
From USA Today
---
Local News early interviews
Kind of boring, but what the hey...
---
Tromping around and leaving plenty of their sign in the street, perhaps...
Photo Note - this photo is not at Sturgis, but appears to be some sort of hillbilly gathering. Like where I, an Enemy of the People, grew up.
---
---
---
---
---
Testing down here, pay no attention:
Arg !!
"Weed" at future Sturgis?
Yes, if the people have their way
Self-proclaimed freedom loving governor has been fighting this tooth, nail and claw...
Here we go....